Why Real Estate?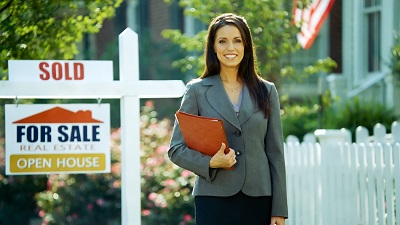 Are you thinking of making a career change? A career in real estate might be a great choice for you. This engaging career is perfect for individuals with outstanding interpersonal skills, and provides a unique opportunity to travel and work outside of the traditional office setting. Acquiring a Real Estate license in Florida is not as difficult, costly, or time consuming as one might think. A career in Real Estate is advantageous for several reasons; but this type of occupation isn't for everybody, so it is a good idea to check it out first to see if this is the right fit for you.
Getting Started Is Reasonably Fast and Uncomplicated. In Florida, you can complete the required 63-hour Pre-Licensing Course, take the test, and become a licensed real estate agent in as few as 3-4 weeks. There is an initial investment in time, money and effort to start; but if you are a quick study and are willing to put in the time to learn the methods and procedures, achieving the necessary requirements should be painless.
Work While You Learn. Many individuals continue with their current jobs while preparing to begin their real estate business. This is done for several reasons; you have bills to be paid on a regular basis, or you're just looking for a way to make more money. The good news is that you won't have to spend a fortune in order get your education and license to sell real estate. Going through the pre-licensing courseand the licensing process is something dedicated people are able to accomplish relatively easily while continuing to work.
Be Your Own Boss. As a real estate agent, you are an independent contractor and are in control of how much or how little you work. With a solid work ethic and a positive personality, there are no limits to the earning potential of your real estate business. But remember, you are also in charge of marketing your own business (and yourself), networking, building leads, following up, and managing your office needs.
Your Schedule is Flexible. Real Estate is not a humdrum 9-to-5 job. Whether you work for a large agency or for yourself, you set your own day-to-day work schedule. So you can fit in your daughter's dance recital or that long beach weekend. Of course, you will need to be flexible to your client's needs as well such as setting up viewings and your appointments with clients. This sometimes means evenings and weekends. Most of a real estate agent's time is spent meeting people, building relationships, and networking. As long as you are devoting the time to your work, you choose which times are best for you.
Excellent Income with No Cap on Earnings. As an independent contractor, getting your first sales to come in can take some time. While this does mean that you don't get paid if you're not selling, it also means that there is no cap on how much you can earn in a single year. Success doesn't happen overnight, but if you put in the hours and learn how to be successful in the real estate business, it's possible to earn more than you ever expected. This promise of unlimited income is often the impetus that drives most real estate agents.
Help People With Their Largest Transactions. Real estate transactions are one of the most stressful times in a client's life. You will need to be caring and confident in your skills and abilities. This is an exciting time for both buyers and sellers, and they look to the real estate agent to be the expert helping manage their way through the process. Real estate agents receive genuine satisfaction from helping clients find the perfect home or sell their property at a great price. When a client leaves happy, word-of-mouth advertising spreads quickly and will positively affect your referral network and ultimately your bottom line.
The Real Estate Market is Never Ending. When the real estate market is down, it is not a market that ceases to exist. In many other businesses, employees suffer greatly from a poor economy. However; even in a bad economy, licensed real estate agents have the tools needed to sell homes to qualified buyers. Your sales may not be as high, but that doesn't mean you will stop selling together.
Career Opportunities With a Real Estate License. Once you obtain your real estate license, the most natural path is to become a sales associate with an independent brokerage or national franchise. But there are other career options as well. Corporations (in and out of the real estate world): the sole purpose of some companies is to buy properties and then lease them out. These are real estate investment companies working for themselves. Business with builders: when you're working with a builder, your job may range from finding land for the builder to build on to selling the houses or other buildings the builder may construct. Government: local, county, and the federal government often hire people to perform real estate services. Typically, large governments employ people to maintain records, sell surplus property, buy property for various purposes, and obtain easements. There also careers in property management, land development, real estate counseling, and real estate research.
If you want all of the amazing things that a committed real estate agent can achieve with their real estate business (wealth, flexibility, and quality of life), then you should definitely get your real estate license and jump in with both feet. If you love personal interaction, marketing, and being self-employed, working as a real estate agent can be incredibly rewarding. Connecting buyers with their dream homes or helping sellers move on with their lives is a wonderful calling. And you get to look at houses all day long.