Online Real Estate Education vs. Classroom Courses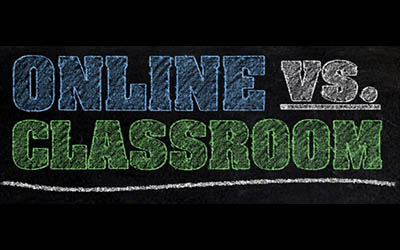 Although enrolling in a real estate school is the first step toward a rewarding career, there are many more choices you'll make along the way – like how to attend school. Depending on your situation, you could benefit from earning your real estate education online or in a classroom. Here's what to consider when making the choice.
The Pros of an Online Real Estate Education
It's no secret that e-learning has gained popularity in the last decade, with more courses being offered online and more people turning to their computer screens – at home – to earn their education. In fact, it's estimated that about 46 percent of college students are taking at least one online course in 2015. When it comes to receiving a real estate education and becoming a real estate broker, it's no different.
Here are some of the biggest pros of an online real estate education:
Learn at your own pace, scheduling classes and coursework around your life
Save the time and money it takes to drive to and from the classes on campus
Become highly efficient at maneuvering in an online environment
Remember that it takes a lot of self-discipline to earn your real estate education at home. But it's a life skill that'll help you when you become a real estate agent.
The Pros of Classroom Courses in Real Estate
If you think you'll face too many distractions at home when studying to become a real estate agent, then your best bet is to learn in a traditional environment – a classroom. Although learning online is popular today, there's nothing wrong with attending real estate classes on campus – and there are benefits to it, too. In fact, if you know you might struggle at your own pace, it's better to save your time and money by admitting it to yourself today than learning the hard way tomorrow.
Here are some of the biggest pros of taking classroom courses in real estate:
Learn in an environment with other students who are readily there to help
Stick to a set schedule so you always know what you should be studying
No matter your approach to earning a real estate education and becoming a real estate agent, one thing is true: it's a rewarding career for those who pursue it.